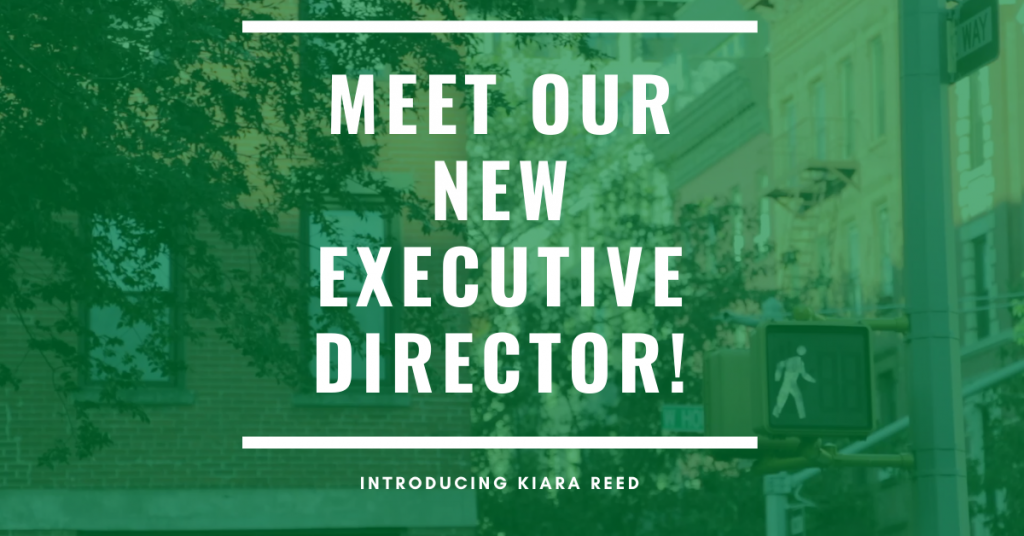 After nearly a year-long search, the WALKSacramento Board of Directors and staff are proud to announce our new Executive Director, Kiara Reed. Kiara will officially step into the new position on November 2, 2020.
Kiara is an all-around community warrior specializing in social change and community empowerment. A Nehemiah Emerging Leader Alum, Kiara has a strong leadership background and a get-things-done attitude. Her service as a board member for Slow Food Sacramento, The Black Artist Fund, and CleanStart demonstrates a strong commitment to local communities. Kiara has also spent the last 5 years serving Sacramento's historic Oak Park Neighborhood organizing a sustainable and equitable future for all. Through her work with Comstock's Magazine and Uptown Studios, Kiara has built a large network of Sacramento movers and shakers. Kiara is committed to building more equitable communities by empowering and elevating marginalized voices through a social and environmental justice lens.
As we approach our 20th year anniversary, our updated strategic plan expands our vision for the Sacramento region to be a place that all people, regardless of race, income, or ability, live in neighborhoods that are designed for health and happiness; are sustainable and green; support thriving local economies; and promote civic engagement. We are confident that Kiara's passion, leadership, and experiences both personally and professionally will push our mission forward and expand our strategic plan to new heights at local, regional, and state levels while continuing to center and build the capacity of our most vulnerable communities in everything we do.
We are grateful to our partners, staff, and board members who were a crucial part of our decision-making process and have supported us during this time of transition. We invite you to help us welcome Kiara to the WALKSacramento family.
Sincerely,
WALKSacramento Board of Directors and Staff
I'm elated to take on the role of Executive Director with WALKSacramento—founded in 2001 to improve quality of life and health equity through community-centered policy and systems change.
In the wake of nationwide protests against government-sanctioned police brutality, we must do more to examine harmful relationships to public spaces and their disproportionate impacts on communities of color. We must acknowledge that as a nation, our ideas about who should have access to certain public spaces and amenities are rooted in structural racism. When Black and Brown bodies are being murdered in the built environment—where open streets become open season for police brutality and racist vigilantism, then we cannot ignore that community spaces are only safe for some, not all. WALKSacramento has committed to confronting racism in policy, systems, and environmental work and I look forward to ensuring our accountability to this commitment.
Communities of color have disproportionately been impacted by discriminatory land use and housing practice implemented from a top-down approach. If we are to truly design an equitable and sustainable Sacramento, we need to prioritize the needs of disadvantaged communities first. As COVID-19 presents new challenges to communities of color, health equity in the built environment is more important than ever while navigating social distancing.
As an Oak Park resident and woman of color who has traditionally lived in disadvantaged communities, I understand first-hand what it's like to not have health equity in the built environment. Access to healthy food options, sidewalks, and clean air should be equitably afforded to all.
My own understanding of inequities in the built environment came at a young age. I grew up in an unincorporated county island—surrounded by the City of Chico, known as Chapman town. Arguably the most ethnically diverse area of the city, Chapman town features no sidewalks, is surrounded by high-speed traffic and has some of the worst air quality in the city. At a young age, my siblings and I crossed one of the busiest arterials daily to get to school. A feeling of safety and security simply while walking around your neighborhood should not be tied to the zip code you live in, but this is the reality many are faced with.
The realities I faced as a young girl led me to be civically engaged as an adult. From facilitating Human-Centered Design sessions on equity in environmental justice to organizing solutions around revitalization without gentrification and building out the foundation for the photovoice portion of the City's General Plan's Environmental Justice Element—I've been uniquely positioned to engage with and empower community ideas.
Naturally, my vision for building more equitable communities begins with the very people that live in them. I believe in People Power and our right to liberation from these systems. In my work as Executive Director, I will empower community voices and push for prioritizing investments that the community identifies. There's an opportunity to build community-centered solutions, backed by policy, that intervene with the social determinants of health to create thriving communities that are both sustainable and equitable. I believe that together, we can do this, right here in Sacramento and I am looking forward to continuing this journey, with a team of experts who are ready to make lasting and meaningful change. I hope you will join us for the journey.
Your Support Helps Us Go the Extra Mile
Building livable, thriving communities is a community effort. Your donation to WALKSacramento ensures that we maintain a strong independent voice in advocating for improving quality of life and health equity through community-centered policy and systems change in land use, transportation, and community development.