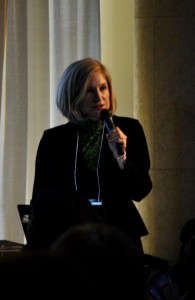 WALKSacramento executive director Teri Duarte opened up a panel presentation on  the connection between healthy outcomes and investment in active transportation at the first Transportation Choices Summit, hosted by TransForm, at the Sacramento Central Library on Tuesday, May 1, 2012.  The highlight of of the panel was the work of Neil Maislich, Ph.D., MPH detailing the research and findings from the Bay Area that WALKSacramento hopes to bring to the Sacramento region.
WALKSacramento joined 150 other advocates from across the state at the Summit to call upon the state of California to re-invest in active transportation and sustainable communities over more roads and continued sprawl, and to address the challenge of reducing greenhouse gases through smarter policy choices.
On Wednesday, May 2, Terry Preston. Complete Streets Coordinator, and Stephanie Parent, WALKSacramento volunteer, visited state legislators' offices to urge support for funding sustainable development and affordable housing, among others. Go here for more on the Summit and follow up Advocacy Day.