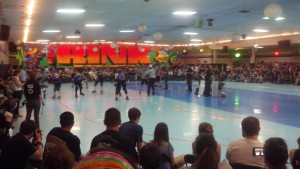 Over 1,000 people noisily filled The Rink on Bradshaw to watch the Sac City Rollers skate against the Silicon Valley Roller Girls. Skating is certainly a form of "active transportation," and those women are in great shape!
A shout-out to our WALKSacramento friends who supported us by showing up for the bout: Board member Lisa Woodard-Mink and her friends Katherine Keyes and Christine Hosay; Board member Eric Fredericks and his wife Sarah Bontrager and their son Jason; Dan Allison; WALKSacramento Advisory Council member Chris Morfas, Kristian Damkier and JJ Hurley of the Sac Metro Air District; JJ's fiancée Erin Anderson.
The event was great fun, and we're grateful to Connie Bates-Jackson of Taxes n Books for making it happen by selecting WALKSacramento as the charity that receives the raffle proceeds of the night. The funds raised will help us bring more walkable communities to our region. Connie is a skating champion on the Sac City Rollers team, and she happens to be our bookkeeper! Thanks for your support, Connie, and thanks to the whole Sac City Rollers team!