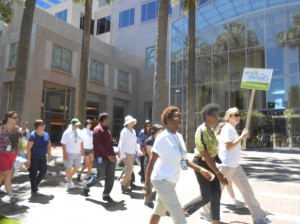 Walking is a big deal in downtown Sacramento nowadays! Hundreds of people meet every Thursday at 6th and Capitol for Kaiser Permanente's "Walk to Thrive" walking club. Walkers stride en masse along a one-mile route, led by a Kaiser physician, after having gathered briefly around the farmers market stalls and lunchtime taco stands on Capitol Mall. Those who sign up for the weekly walks (and over 1,000 have!) receive, at no cost, a pedometer, a T-shirt, and a punch card good for a gift from Kaiser once the card is punched five times, one for each physician-led walk you go on. The walks are open to all, whether you're a Kaiser member or not. They started on June 20, and will continue each Thursday at 11:45 sharp through September 26.
Doctors recognize well the benefits of walking. Walking for 30 minutes a day can prevent weight gain most people who are physically inactive. Walking or other repetitive exercise pumps more blood into your brain, which improves cognition. Walking improves bone strength, preventing osteoporosis. Walk enough each day, and your need for certain medications such as for high blood pressure or diabetes may well melt away. Walking even makes you happier: exercise improves your mood and sense of well being. The new realities of exploding health care costs and the imminent implementation of the Affordable Care Act are leading health care providers to embrace measures that help prevent today's most common illnesses and conditions, not the least of which is to encourage people to walk.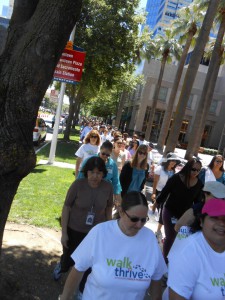 WALKSacramento is working to make the Sacramento region a better place to walk, and we thank Kaiser Permanente for helping to promote walking as a great way to get healthy and connect with others. Check out the physician-led walks each Thursday lunch hour on the Capitol Mall at 6th street. You don't have to exercise "hard" to get the benefits… just walk!