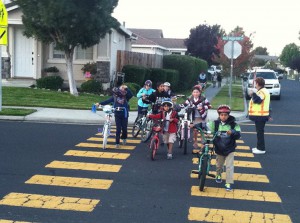 Bridgeway Island Elementary, a WALKSacramento Safe Routes project school in West Sacramento, won a social media contest hosted by Carmanah Technologies Corporation to receive a FREE Rectangular Rapid Flashing Beacon (RRFB). RRFBs are user-actuated LEDs that supplement pedestrian crosswalk signs. Studies show that driver yielding rates increase with the use of a RRFB. The RRFB will be installed at an uncontrolled crosswalk leading to one of the school's three main pedestrian entrances.
WALKSacramento is proud of the parents and faculty at Bridgeway Island Elementary because they championed the effort to submit a contest entry and promote their submission via social media. Bridgeway Island parents and faculty are creating change by encouraging students to walk and bike to school, AND finding solutions to improve walking and biking infrastructure around their school. Great job, Bridgeway Island!
Click here to view Bridgeway Island's winning entry to the Carmanah Technologies Be a Beacon School Challenge.