On October 9, 2013, Sacramento area students participated in International Walk to School Day, joining thousands of schools in over 40 countries that engaged in the day's activities. WALKSacramento staff members helped parents and school administration organize Walk to School Day events at 16 schools in the Sacramento region. While the event takes place over the course of one day, the preparation begins months in advance.  WALKSacramento staff members organized incentives, partner organizations, local government officials, and parents to help encourage children to embrace a healthy lifestyle by using "active transportation."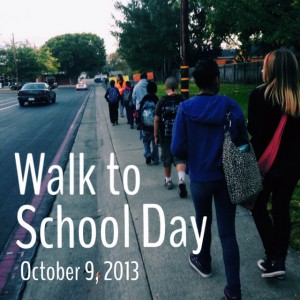 WALKSacramento staff was on-hand at three schools in the Sacramento area to arrange walking school buses, deliver a pedestrian safety presentation, and hand out prizes to participating students.
At Thomas Edison Language Institute, students met at two remote drop-off locations and walked or biked to school. The students were given pencils at the remote drop-off location and received stickers and retro reflective backpack zipper-pulls when they arrived on campus.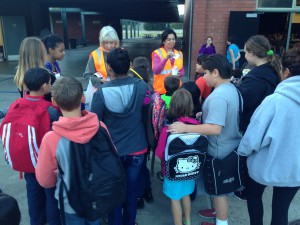 Walk to School Day is just one of many efforts to promote healthy lifestyles.  In South Natomas, Bannon Creek Elementary's weekly Walking Wednesday kickoff also took place on October 9, 2013.  Students were given Walking Wednesday punch cards to hang on their backpacks to get punched by parent volunteers. Volunteers hand out monthly charms, called "Fitness Finders," that students attach to their backpacks.  These have been a successful tool to incentivize walking as students take pride in showing off the number of days they have participated.
Mayor Cabaldon of West Sacramento led a walking school bus to Riverbank Elementary with WALKSacramento staff and the City of West Sacramento staff. Mayor Cabaldon handed out prizes to students who walked or biked to school upon arrival to campus. Students were excited to meet the mayor and share the experience with him.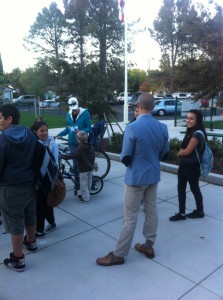 Walk to School Day recognizes the merits of walking to school, but its message transcends the month of "Walktober." WALKSacramento will continue to work collaboratively to shape the future of our youth.  For more information about International Walk to School Day, please visit the event website at http://www.walkbiketoschool.org/.