On Friday, March 7, WALKSacramento hosted a bike rodeo at Bannon Creek Elementary in Natomas with the help of Arlete Hodel, City of Sacramento police officers, and Delisha Easley. WALKSacramento put on the event in coordination with the Think Together after school program at Bannon Creek.  A bike rodeo is an interactive clinic that teaches children real world skills to ride safely and confidently.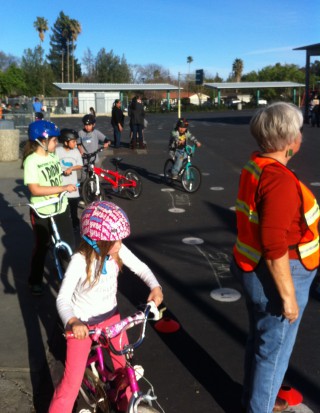 Students rotated to multiple stations where they learned bicycling and walking safety and put their knowledge to the test in skills drills and fun activities.  Thanks to the Kohl's Buckle Up to Grow Up program (A UC Davis Children's Hospital program), WALKSacramento staff fitted over fifty students with helmets. After decorating their helmets with reflective stickers, students with a bike, scooter, or skateboard participated in blacktop drills, where they learned about starting and stopping, signaling, and scanning their surroundings.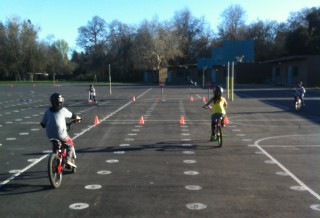 There were plenty of opportunities to participate for those that did not bring a bicycle. WALKSacramento staff members led pedestrian games, in which students had fun learning the importance of looking out for approaching vehicles.  Inside the multipurpose room, WALKSacramento project assistant, Miha, taught students about biking and walking safety and the importance of being visible. Students were rewarded with prize tickets for answering questions about what they had learned. Students especially liked the reflective bracelets and neon shoelaces.
Bike rodeos are a great way to instill the importance of active transportation at a young age.  Through our Safe Routes to School grant work in Natomas we have seen significant improvements in the number of students that walk and bike to school.  We are thankful to have the help of volunteers and partners such as the City of Sacramento Police Department and the Think Together after school program to help our goals come to fruition.