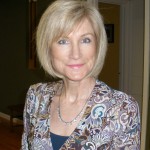 We are pleased to announce the hiring of WALKSacramento's next Executive Director, Teri Duarte!
Since 1988, Teri Duarte has served as Director of the Women, Infants and Children (WIC) Program for the County of Sacramento, overseeing 80 staff who help families learn about nutrition and health to improve the lives of children. The Sacramento County WIC Program has been called a "model" agency by the California Department of Public Health for its customer service, organization, and leadership in nutrition education and breastfeeding services. Because of this, the agency is frequently utilized as a training site for State WIC staff. Last year, County WIC Program dietitians took leadership at the State level in developing and implementing the statewide "Healthy Habits" nutrition education campaign that accompanied the rollout of the new, healthier WIC foods packages in October 2009. The WIC Program's First 5-funded Community Lactation Assistance Program is a regional model providing a multitude of services, and has increased exclusive breastfeeding rates by 50% in three years.
In 2004, Teri became interested in improving the urban environment to promote human health and reduce chronic health conditions through increased physical activity in everyday life. She began to work with the Sacramento City and County planning departments to develop policies that lead to land development that facilitates walking and bicycling. She helped WALKSacramento launch its Complete Streets Coalition from the Partnership for Active Communities. She served part-time in 2009-10 in the Land Use and Transportation unit of the Sacramento Metropolitan Air Quality Management District, helping to incorporate a range of public health concerns into the agency's project review comment letters on proposed land use projects in the region. Teri has delivered presentations on the health impacts of the built environment to thousands in the Sacramento region, and has been a regular instructor in the City of Sacramento's Planning Academy. She is currently chair of "Design Sacramento 4 Health," a group of local physicians and other health professionals advocating for land use and transportation planning that improve public health. Teri has also lived in Mexico and is fluent in Spanish.
Teri will be joining WALKSacramento beginning February 15, 2011. Anne Geraghty has graciously offered to assist Teri with a smooth transition and will continue to work on special projects.
We're very excited to have someone with Teri's experience and passion lead our staff. Please make sure you give Teri a warm welcome at upcoming events!