Community Air Grant
Sacramento Neighborhoods Activating on Air Quality
Project Background
Sacramento Neighborhoods Activating on Air Quality (SNAAQ) is a Community Air Grant project run through California Air Resources Board's (CARB) Community Air Protection Program and seeks to empower community members in Old North Sacramento/Norwood and Oak Park to monitor their air quality and guide investments to reduce carbon emissions and improve public health.

WALKSacramento, along with our non-profit partners at Valley Vision, Breathe CA Sacramento Region, and Green Tech Education and Employment, is working directly with community-based organizations, residents, and businesses through public surveys, language-based listening sessions, and the convening of a Public Advisory Committee (PAC) and two Neighborhood Coalitions to inform the community-led placement of 20 air monitors (located here) and develop a solutions-oriented approach to community based-planning and priorities.
Project Role
Nonprofit Partner
Project Partners
Valley Vision, Breathe CA Sacramento Region, and Green Tech Education and Employment
Project Timeline
Spring 2020 – Current
Funder
California Air Resources Board (CARB)
Community Resources
Oral Histories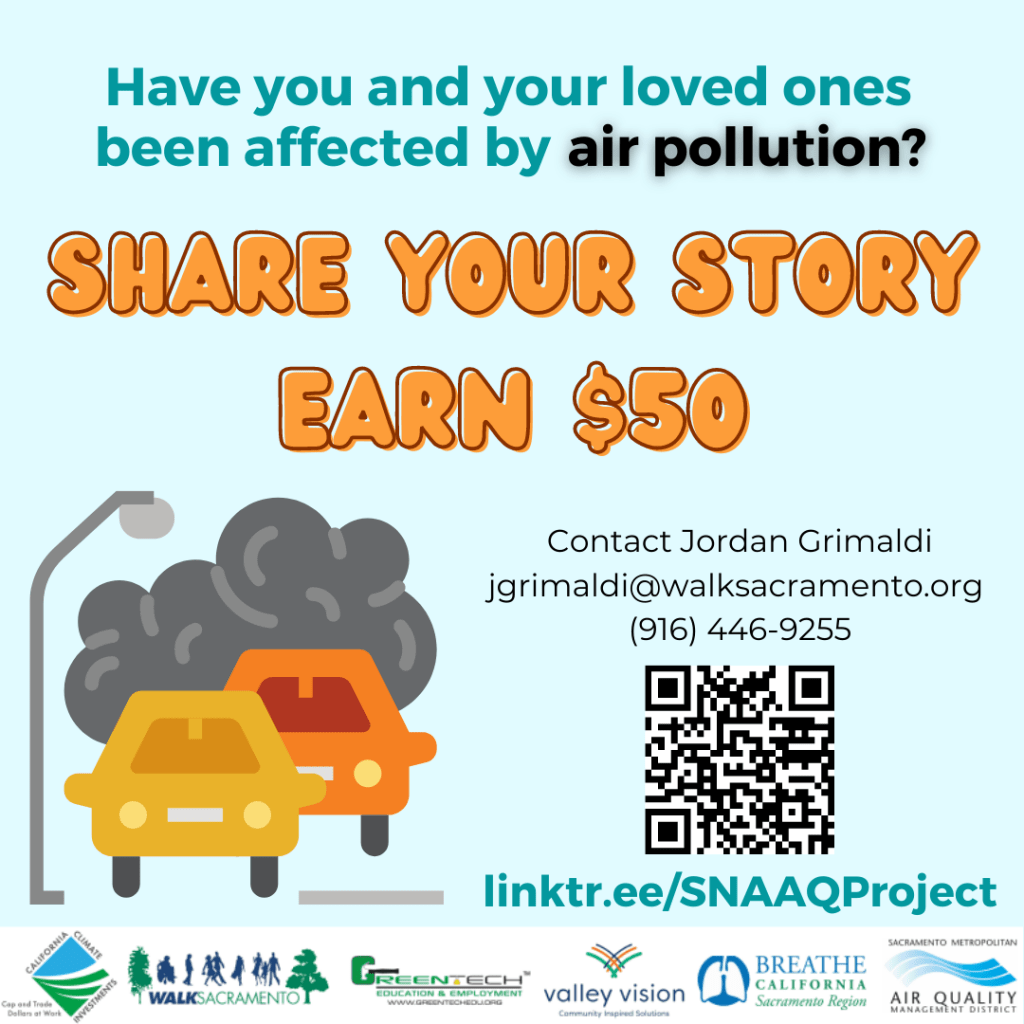 In an effort to understand how air quality is affecting the health of our neighbors, 6-10 community members from Oak Park and Old North Sacramento will be interviewed to share their personal experiences. Through these oral histories, our objective is to learn directly from our community experts, and identify how we can work towards environmental justice in these areas. These stories will be shared in the diverse languages that enrich and represent the culture of Oak Park and Old North Sacramento.

Our team is currently looking for people to share their oral history! We invite you to participate in a 30 minute interview, and are offering $50 in compensation for your time. If you or someone you know is interested, please reach out to our Program Coordinator, Jordan Grimaldi:

Email: jgrimaldi@walksacramento.org
Phone: (916) 446-9255
Public Data Portal
The solar-powered rooftop air monitors measure particulate matter (PM 2.5) and NOx and are currently transferring collected data to a Public Data Portal to provide residents with real-time information on the current air quality conditions within their respective communities. The data will be evaluated to identify where to prioritize actions and investments, with the ultimate goal of empowering residents to guide the development of community action plans.